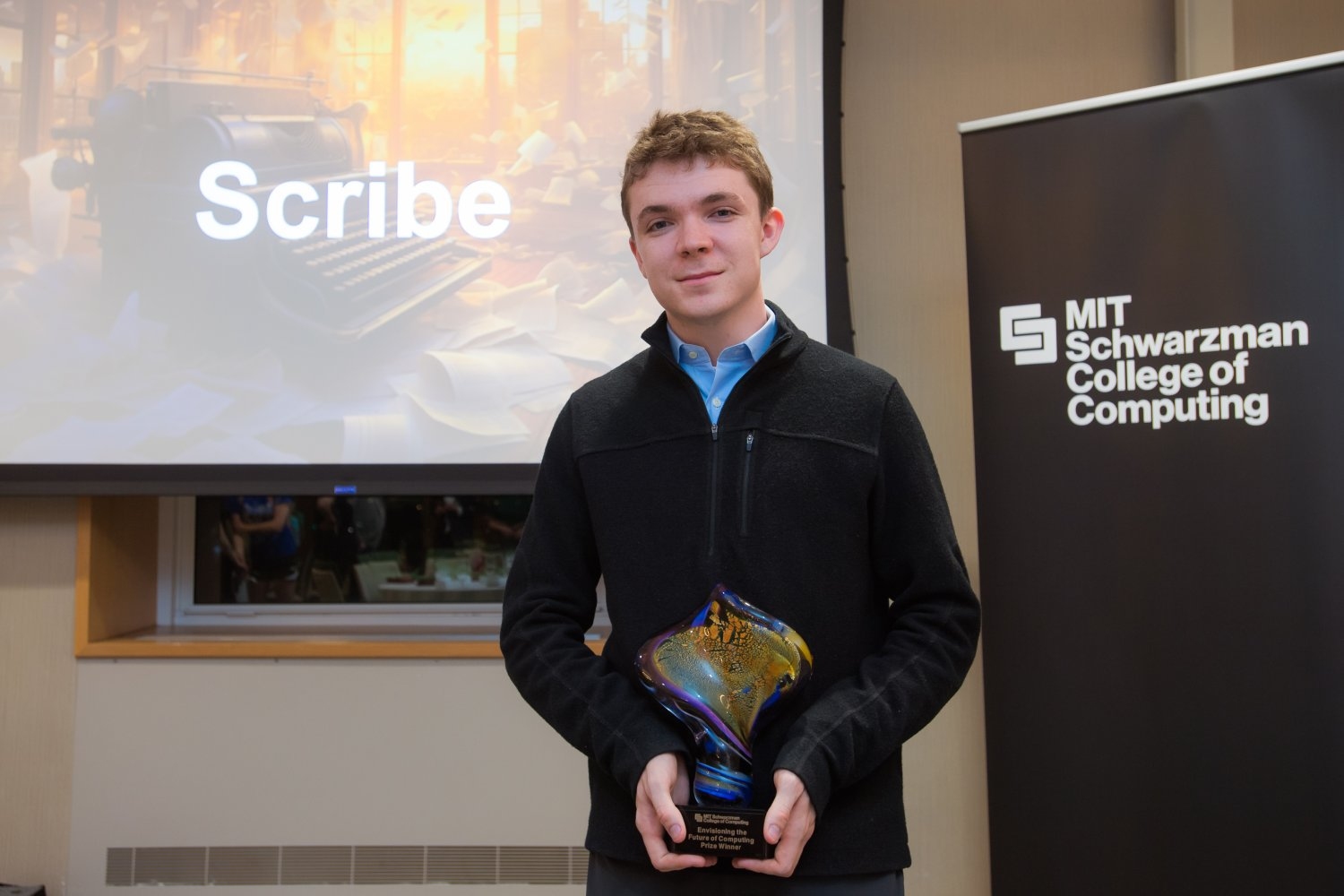 How will advances in computing change human society?
MIT trainees considered this approaching concern as part of the Picturing the Future of Computing Reward— an essay contest in which they were challenged to picture manner ins which calculating innovations might enhance our lives, in addition to the mistakes and risks related to them.
Provided for the very first time this year, the Institute-wide competitors welcomed MIT undergraduate and college students to share their concepts, goals, and vision for what they believe a future moved by developments in calculating holds. Almost 60 trainees put pen to paper, consisting of those learning mathematics, approach, electrical engineering and computer technology, brain and cognitive sciences, chemical engineering, city research studies and preparation, and management, and entered their submissions.
Trainees thought up extremely innovative situations for how the innovations these days and tomorrow might affect society, for much better or even worse. Some repeating styles emerged, such as taking on problems in environment modification and healthcare. Others proposed concepts for specific innovations that varied from digital twins as a tool for browsing the deluge of info online to an advanced platform powered by expert system, artificial intelligence, and biosensors to produce individualized storytelling movies that assist people comprehend themselves and others.
Envisaged by the Social and Ethical Duties of Computing (SERC), a cross-cutting effort of the MIT Schwarzman College of Computing in partnership with the School of Liberal Arts, Arts, and Social Sciences (SHASS), the intent of the competitors was "to produce an area for trainees to believe in an imaginative, notified, and extensive method about the social advantages and expenses of the innovations they are or will be establishing," states Caspar Hare, teacher of approach, co-associate dean of SERC, and the lead organizer of the Picturing the Future of Computing Reward. "We likewise wished to communicate that MIT worths such thinking."
Reward winners
The contest carried out a two-stage assessment procedure in which all essays were examined anonymously by a panel of MIT professor from the college and SHASS for the preliminary round. 3 qualifiers were then welcomed to provide their entries at an awards event on Might 8, followed by a Q&A with an evaluating panel and live in-person audience for the last round.
The winning entry was granted to Robert Cunningham '23, a current graduate in mathematics and physics, for his paper on the ramifications of a tailored language design that is fine-tuned to forecast a person's composing based upon their previous texts and e-mails. Distinguished the viewpoint of 3 imaginary characters: Laura, creator of the tech start-up ScribeAI, and Margaret and Vincent, a couple in college who are regular users of the platform, readers acquired insights into the social shifts that occur and the unexpected consequences of the innovation.
Cunningham, who took house the grand reward of $10,000, states he created the idea for his essay in late January while considering the upcoming release of GPT-4 and how it may be used. Produced by the designers of ChatGPT– an AI chatbot that has actually handled to catch popular creativity for its capability to mimic human-like text, images, audio, and code– GPT-4, which was revealed in March, is the most recent variation of OpenAI's language design systems.
" GPT-4 is wild in truth, however some reports prior to it released were even wilder, and I had a couple of long airplane trips to consider them! I enjoyed this chance to strengthen an unclear idea into a piece of composing, and given that a few of my preferred works of sci-fi are brief stories, I figured I 'd take the possibility to compose one," Cunningham states.
The other 2 finalists, granted $5,000 each, consisted of Gabrielle Kaili-May Liu, a senior learning mathematics with computer technology, and brain and cognitive sciences, for her entry on utilizing the support knowing with human feedback method as a tool for changing human interactions with AI; and Abigail Thwaites and Eliot Matthew Watkins, college students in the Department of Viewpoint and Linguistics, for their joint submission on automated reality checkers, an AI-driven software application that they argue might possibly assist alleviate the spread of false information and be an extensive social great.
" We were so thrilled to see the fantastic action to this contest. It explained just how much trainees at MIT, contrary to stereotype, actually appreciate the larger ramifications of innovation, states Daniel Jackson, teacher of computer technology and among the final-round judges. "Numerous of the essays were extremely thoughtful and imaginative. Robert's story was a cooling, however totally possible take on our AI future; Abigail and Eliot's analysis brought brand-new clearness to what damages false information in fact triggers; and Gabrielle's piece offered a lucid summary of a popular brand-new innovation. I hope we'll have the ability to run this contest every year, which it will motivate all our trainees to widen their point of views even further."
Fellow judge Graham Jones, teacher of sociology, includes: "The winning entries showed the extraordinary breadth of our trainees' engagement with socially accountable computing. They challenge us to believe in a different way about how to develop computational innovations, conceive social effects, and picture future situations. Dealing with a cross-disciplinary panel of judges catalyzed great deals of brand-new discussions. As a sci-fi fan, I was delighted that the leading reward went to a such a sensational piece of speculative fiction!"
Other judges on the panel for the last round consisted of:
Dan Huttenlocher, dean of the MIT Schwarzman College of Computing;
Aleksander Madry, Cadence Style Systems Teacher of Computer Technology;
Asu Ozdaglar, deputy dean of academics for the MIT Schwarzman College of Computing and head of the Department of Electrical Engineering and Computer Technology;
Georgia Perakis, co-associate dean of SERC and the William F. Pounds Teacher of Management; and
Agustin Rayo, dean of the MIT School of Liberal Arts, Arts, and Social Sciences.
Respectable discusses
In addition to the grand reward winner and runners up, 12 trainees were acknowledged with respectable discusses for their entries, with each getting $500.
The honorees and the title of their essays consist of:
Alexa Reese Canaan, Innovation and Policy Program, "A New Method Forward: The Web & & Data Economy";
Fernanda De La Torre Romo, Department of Brain and Cognitive Sciences, "The Empathic Transformation Utilizing AI to Foster Greater Comprehending and Connection";
Samuel Florin, Department of Mathematics, "Modeling International Solutions for the Environment Crisis";
Claire Gorman, Department of Urban Researches and Preparation (DUSP), "Grounding AI– Picturing Inclusive Computing for Soil Carbon Applications";
Kevin Hansom, MIT Sloan School of Management, "Quantum Powered Personalized Pharmacogenetic Advancement and Circulation Design";
Sharon Jiang, Department of Electrical Engineering and Computer Technology (EECS), "Artificial Intelligence Driven Improvement of Electronic Health Records";
Cassandra Lee, Media Laboratory, "Thinking About an Anti-convenience Financing Body";
Martin Nisser, EECS, "Towards Tailored On-Demand Production";
Andi Qu, EECS, "Transforming Online Knowing with Digital Twins";
David Bradford Ramsay, Media Laboratory, "The Perils and Guarantees of Closed Loop Engagement";
Shuvom Sadhuka, EECS, "Conquering the False Compromise in Genomics: Personal Privacy and Partnership"; and
Leonard Schrage, DUSP, "Embodied-Carbon-Computing."
The Picturing the Future of Computing Reward was supported by MAC3 Effect Philanthropies.